Benefits
Four (4) one-way flight segments between:

Whitehorse

↔

Vancouver
Whitehorse

↔

Dawson City

Each pass allows for up to two (2) traveller names
Travel between 10 June 2021–30 April 2022

Blackout dates apply: 15 December 2021–4 January 2022

All travel must be completed by 30 April 2022

Air Passes allow for travel cost predictability but do not guarantee space available, we recommend booking as far in advance as plans permit
Pricing and Availability
A one-time pre-payment of $938.91 ($894.20 + GST) is required.

2021 Summer Solstice Air Passes are available for purchase until 11:59pm YT on 25 June 2021.
Route Options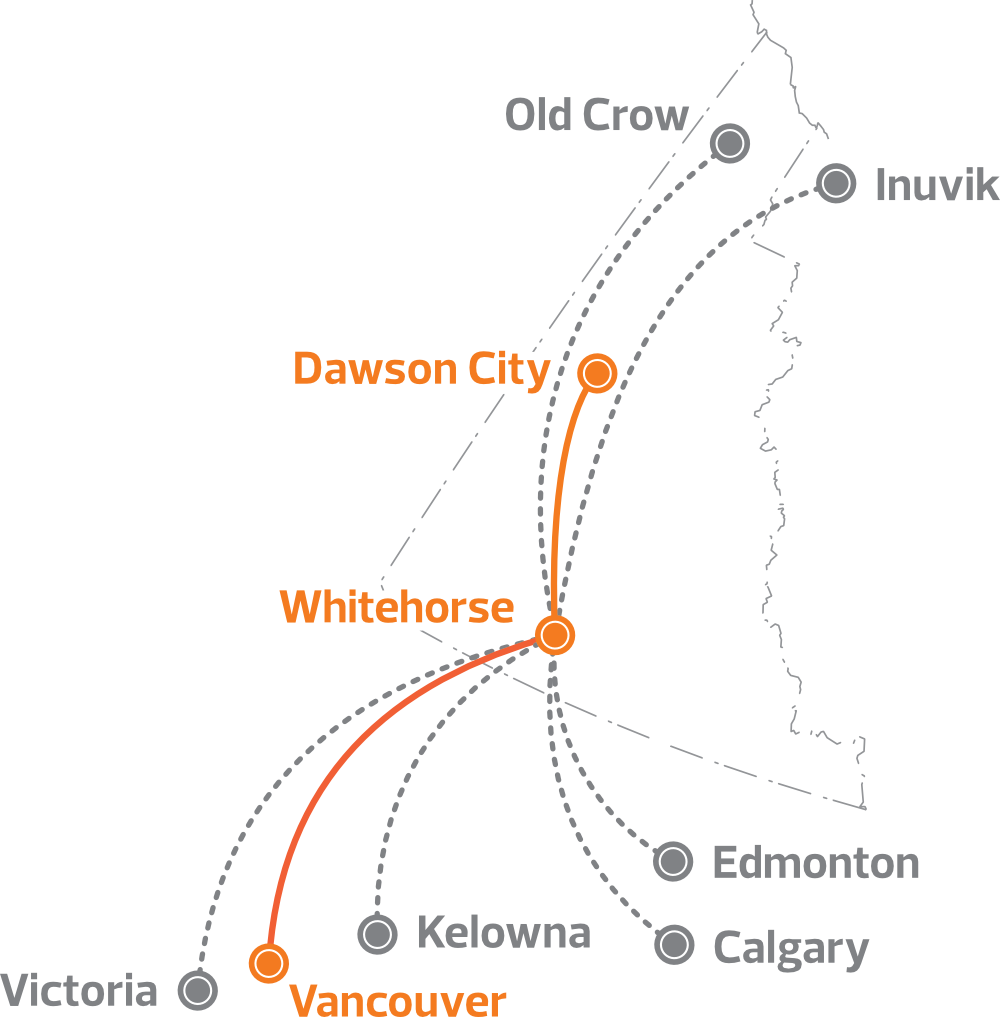 Each flight segment may be used to fly one-way between:
Whitehorse ↔ Vancouver

Whitehorse ↔ Dawson City 
The following routes are available for an upgrade fee (per one-way segment):
British Columbia

Whitehorse

↔

Kelowna: $26.25 incl. GST

Whitehorse

↔ Victoria: $26.25 incl. GST

Alberta

Whitehorse

↔ Calgary: $26.25 incl. GST

Whitehorse

↔ Edmonton: $26.25 incl. GST

Yukon

Whitehorse

↔ Old Crow: $52.50 incl. GST

Northwest Territories

Whitehorse

↔

Inuvik:

$52.50

incl. GST
Number of Eligible Travellers
Up to two (2) individuals.
Purchaser's name must be confirmed at time of purchase. Up to two traveller names can be provided at any time. After a traveller(s) name has been provided, name changes are permitted for a fee of $131.25 including GST per change – however, 2021 Summer Solstice Air Passes may only contain two names, including those used on active bookings.
Booking Flights
Bookings are permitted up to two (2) hours prior to departure time, based on availability. Please note - special meal requests will not be available for last minute bookings. For inquiries, please contact Air North Reservations.
Blackout Dates
Blackout dates on the 2021 Summer Solstice Air Pass are 15 December 2021–4 January 2022 (inclusive).
Seat Selection
Seat selection fees apply.
Changes & Cancellations
(date of travel, routing or name change, per person, per itinerary)
Change or cancellations fees are waived on bookings made until 30 April 2022

Changes are subject to availability at time of booking

Same-day changes can be made by contacting Air North Reservations or at an Air North airport check-in counter

Bookings must be cancelled at least two (2) hours prior to scheduled departure time or Air Pass segment(s) will be forfeited
No-Show Fee
If a passenger does not show up for a flight upon which they are booked, this will result in the loss of the full value of the air pass segment(s) used to book the flight.
Travel Restrictions Due to COVID-19
All travellers are subject to the applicable border restrictions and/or self-isolation requirements enforced in their chosen destination. No refunds will be provided due to a change in border restrictions or self-isolation requirements. We will continue to monitor border restrictions and ensure that the Summer Solstice Air Pass validity period allows for a minimum of 120 days of travel opportunity. Please visit the applicable territorial and/or provincial government website(s) for up-to-date travel information.
Booking Air Pass Credits
One (1) flight segment is required per one-way flight

Air Pass segments are non-transferable and can only be used by the eligible traveller(s)

Air Pass segments are available for booking immediately upon approved payment

Air Pass segment bookings are based upon availability and can only be used on Air North, Yukon's Airline. Schedule and routes are subject to change without notice

Air Passes cannot be used for charter flights

Bookings for infants under two (2) years of age not occupying a seat are complimentary

The booking and use of Air Pass segments is subject to all applicable rules, policies, terms and conditions of carriage. For instance, the offering of special services (e.g. unaccompanied minors, customers with special needs, travelling with an infant/child, travelling with a pet) are subject to applicable conditions and restrictions. In addition, not all special services are available free of charge. Please speak to an Air North Reservations agent for details if you require any special services

The booking and use of Air Pass segments are subject to applicable laws including immigration requirements. It is the responsibility of the traveller(s) to carry all necessary travel documents and comply with all applicable immigration requirements

Air Pass travel is subject to Air North's normal checked or carry-on baggage policies, which vary based on the type of aircraft servicing the route. Please review our baggage policies at flyairnorth.com/baggage prior to travel.
Miscellaneous
The purchaser is responsible for advising Air North of any change in contact information (address, phone number and email address).
These terms and conditions may change at any time without notice and other conditions may apply. All additional fees or options, including but not limited to; cancellation/change fee, are to be paid separately at time of booking.
2021 Summer Solstice Air Passes are not available for purchase by corporate, government agencies or group travel (10 or more travellers). Please contact corporate@flyairnorth.com or groups@flyairnorth.com for a custom solution.