Dawson City, Yukon is the heart of the world-famous Klondike Gold Rush. In August of 1896, George and Kate Carmack, Dawson Charlie, and Skookum Jim found gold in Rabbit Creek, now called Bonanza Creek. That simple discovery changed the history of the Yukon forever. In what became known as the world's greatest gold rush, nearly 100,000 stampeders came North to strike it rich in the Klondike goldfields. By 1898, Dawson City lived up to its city status with nearly 40,000 inhabitants calling it home.
Today, gold seekers still visit Dawson City. Some come for actual gold, while others come for those golden experiences that will last a lifetime.
Stroll along the dyke looking over the famous Yukon River. Explore the SS Keno, a preserved historic paddle steamer. Sky gaze and be amazed by a midnight sun in the summer or the spectacular northern lights in the winter. Try your luck at the always-lively Diamond Tooth Gertie's Gambling Hall. Become a member of the world-famous Sourtoe Cocktail Club at the Downtown Hotel. Wander the same streets that inspired world famous authors Jack London, Pierre Berton and the poet Robert Service.
The river and boardwalks may not be as busy as they were in 1898, but Dawson City stays lively with events, attractions and festivals throughout the year. Great food, comfortable accommodations, quality shopping, and amazing nightlife ensures that a Dawson City experience is a golden as gold gets.
View More Dawson City Flights
Dawson City at a Glance
Weather:
-17 °C
Wind NW at 16 km/h, 71% Humidity
Fast Facts:
Dawson City was shaped by the Klondike Gold Rush and in the late 1800s, it was filled with adventurous prospectors.
Dawson City is named for George Mercer Dawson, a surveyor who led several field expeditions in western and northern Canada.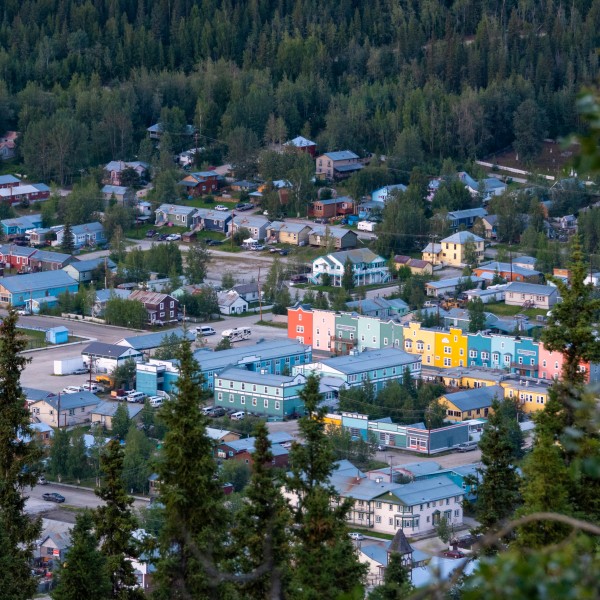 Calendar of Events
Dawson City offers the best of everything you're looking for in a northern town: exciting gold rush history, a thriving arts scene, and an eclectic calendar of events.
What Our Passengers Have to Say
Best Airline & Employees
It was an honour to have captain Joe Sparling at the helm for our flight. I have been using this route for two years now on the recommendation from a friend. Air North is the absolute best airline that I have ever flown. Their employees are hands down, the nicest, most helpful people in the industry! I will find a way to get my bum in your seats again soon!
The Very Best of Service
Thank you, Air North for the very best of service. After 3 beautiful weeks in Dawson I was happy to be on a flight home with such lovely people who you employ. The sandwiches were good choices, fresh and delicious and the flight was absolutely stellar. I know why I like Air North and so will my friends, thank you all!
Amazing Company
Dear Air North, I just received the magazines that you sent to read to my husband. How very thoughtful of you and he has enjoyed some of the articles. I wish you flew to more destinations in Canada because I would use your company every time I flew. You really get customer support and care. You are an amazing company and you are without a doubt - our favourite.