Toronto, Canada's largest and most multicultural urban centre, is also probably the most nicknamed, including Queen City, Toronto the Good, Hogtown, T.O., T Dot, The Big Smoke, Hollywood North and the 6ix. 
Lively festivals, major league sports and renowned art and theatre make Toronto a globally recognized destination. But its neighbourly neighbourhoods, culturally diverse population and exceptionally exciting foodie culture make it a city worth rediscovering.
Toronto's countless attractions, events, landmarks, heritage sites, parks, markets and shopping spots guarantee you'll never run out of things to do. Even locals find themselves discovering new adventures in their own backyard. 
Zoom up 140 stories of the iconic CN Tower for the best views in the city, and step out for an Edgewalk around the top, if you dare. It's the tallest free-standing structure in the Western Hemisphere. Learn how the world works at the Ontario Science Centre, an interactive science museum. Get lost in the halls, tunnels and rooms of Casa Loma, a grand 18th-century castle overlooking downtown Toronto. Walk in the shoes of history-makers and heroes at the Bata Shoe Museum. Get your art on at the Art Gallery of Ontario or MOCA. Cheer on NBA champions on the court or hockey heroes on the ice. 
Over 180 languages and dialects are spoken in Toronto, Mississauga and Brampton, and half of the city's population was born outside of Canada. This multi-cultural mosaic is reflected in a myriad of culinary offerings. This is a foodie's paradise, with a flourishing craft brew culture to match. Globetrot from Little Italy to Little India, Chinatown to Greektown and more culturally diverse neighbourhoods with eclectic shops, cafes, restaurants and food trucks serving everything from tacos to thalis. 
View More Toronto Flights
Toronto at a Glance
Population:
6,417,516 (Greater Toronto Area, 2016)
Weather:
-17 °C
Wind NW at 16 km/h, 71% Humidity
Time Zone:
Eastern Daylight Time
Area:
5,905.71 km² (Greater Toronto Area)
Fast Facts:
Toronto is the largest city in Canada, and the 4th largest city in North America.
There are over 10 million trees in Toronto.
The CN Tower is the largest free-standing structure in the Western Hemisphere.
Toronto is the proud home of citizens representing over 200 distinct ethnic origins.
The Toronto Islands are the largest urban car-free community in North America.
Source: Ultimate Ontario
Calendar of Events
There's no such thing as a weekend (or even a day) without an event or celebration in Toronto. No matter your interests, you'll find something to entertain you!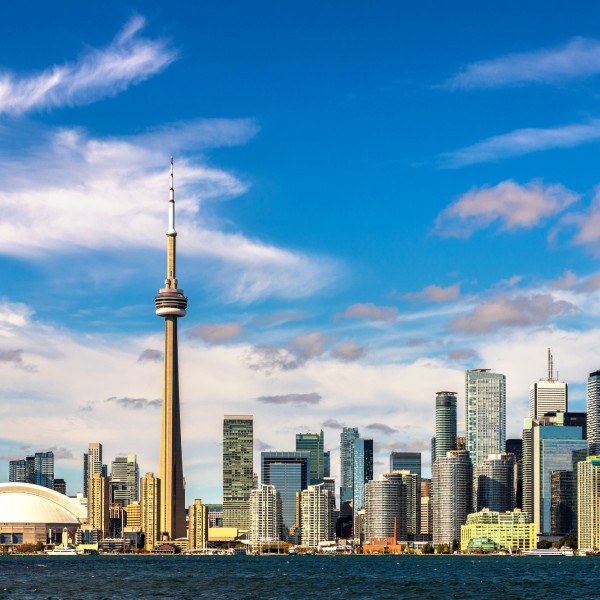 What Our Passengers Have to Say
Top-Notch Service
Just flew home from Whitehorse today on the Ottawa flight. I now enjoy bragging to my friends in the south about your excellent company, flights, service and most of all, understanding. As always, the meal was excellent. Thank you, I hope you will always fly my favourite skies.
The Very Best of Service
Thank you, Air North for the very best of service. After 3 beautiful weeks in Dawson I was happy to be on a flight home with such lovely people who you employ. The sandwiches were good choices, fresh and delicious and the flight was absolutely stellar. I know why I like Air North and so will my friends, thank you all!
Amazing Company
Dear Air North, I just received the magazines that you sent to read to my husband. How very thoughtful of you and he has enjoyed some of the articles. I wish you flew to more destinations in Canada because I would use your company every time I flew. You really get customer support and care. You are an amazing company and you are without a doubt - our favourite.